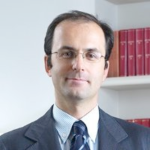 He graduated cum laude in 1993 at University of Milan, passed the exam to become Avvocato in 1996 and to become a Solicitor in England and Wales in 1998.
He has worked at Studio Giliberti Pappalettera e Triscornia (previously Colesanti – Giliberti) until 2014.
He advises Italian and foreign clients principally on corporate law, contractual and commercial matters, in particular in relation to extraordinary transactions (e.g. sale and purchase of participations, transfer of business, lease of business), also at cross border level.
He also assists clients in litigation, in particular before arbitral tribunals.
He is fluent in English and Spanish.
Email: s.zangrando@eunomiastudio.it