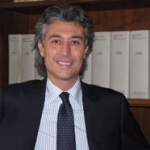 Roberto earned his law degree from the Second University of Napoli in 1999 and qualified as a lawyer in 2004.
In 2001, Roberto attended the Postgraduate Course in Corporate Tax law at Università Commerciale Luigi Bocconi, Milan (Italy). In 2002, Roberto earned the LL.M, Master of Laws, degree in Corporate and Securities Law at the Queen Mary, University of London.
Roberto worked in leading law firms in Italy. In particular he worked for long time at Gianni, Origoni, Grippo & Partners in association with Linklaters and, then, at Labruna Mazziotti Segni, where he specialised in banking & finance and corporate finance, advising several of the major Italian and foreign investment banks and companies on transactions of acquisition financing, restructurings of existing financial indebtedness, structured finance, financing supporting public tender offers and real estate financing as well as assignments of receivables. In recent years, he has also developed a significant experience in corporate finance, investment transactions, both industrial and financial, and M&A transaction and restructuring, assisting well-known Italian private equity funds and industrial corporations in their investments in Italian companies.
During his career Roberto worked on secondment at the European Investment Bank in Luxembourg (September 2005/February 2006).
Email: r.nigro@eunomiastudio.it