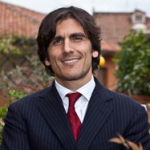 Raffaele earned his law degree from the University of Bari, magna cum laude, in 2002 and qualified as a lawyer in 2007.
In 2003, he obtained a Master in Business Law at the Sole24Ore Business School in Milan. In 2006 he took part in the Merger and Acquisition Forum, at UCLA (University of California, Los Angeles). In 2007 he studied US Corporate and Contracts Law at the University of Boston's London campus focusing on the common law system. The same year he also received a Certificate in Business Administration at the Instituto de Empresa in Madrid, Spain where he studied, among other subjects, financial accounting, corporate finance, business strategy and negotiation. In 2009, Raffaele earned the LL.M, Master of Laws, degree at the Northwestern University School of Law in Chicago, USA.
Raffaele has worked in leading law firms in Italy, in particular he worked at Gianni, Origoni, Grippo & Partners in association with Linklaters, Rome offices and then at Labruna Mazziotti Segni, Rome and Milan offices.
He concentrates his practice on M&A, corporate finance, restructuring, international commercial agreements, energy and renewable resources and has been involved on many notable transactions in recent years in Italy assisting private and public companies, private equity funds, Italian and foreign investment banks, entrepreneurs and managers.
Email: r.depaola@eunomiastudio.it