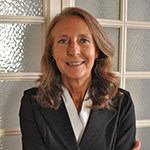 Of Counsel of Eunomia Studio di Avvocati since its foundation, Maria Grazia works as an Industrial Property Consultant since 1987.
After having earned a Degree in Political Sciences, she registered with both the Intellectual Property Counsels Bar and the Licensed Agents Register at OHIM (Office for the Harmonization in the Internal Market) for the protection of trade marks and designs at European level.
She worked for ten years with Ing Barzanò & Zanardo Roma (Intellectual Property Firm), managing the trade mark portfolios of prestigious clients.
Later, she collaborated with leading Law Firms and I.P. Consultancy Firms as an external Counsel.
She gained a wide experience in the field of trade mark protection both in Italy and abroad, which includes the capacity to develop a protection strategy architecture, to draft opinions on priority searches (preliminary evaluations on trademark availability and risk analysis)as well as filing trade mark applications with l'UIBM, l'UAMI, and with foreign and international Offices.
She deals with the management of registration procedures in all their stages, including the administrative obstacles such as official exceptions and refusals of protection) or conflicts between parties (oppositions, negotiations, achievement of coexistence agreements both in Italy and abroad) as well as with assignments, maintenance of rights, license agreements and trade marks' disciplinary.
In the last ten years she frequently advised advertisers and copywriters about the selection of commercial names aimed to be registered as trade marks (i.e. naming procedures).
She is a professional mediator-conciliator and has lectured at the Accademia del Lusso in Rome (Fashion Communication Course) and IED (Istituto Europeo di Design) in Rome within the 'Luxury Goods Management Master' as well as in 'Art Direction Premium' and in 'Copywriting'.
Email: m.cavallo@eunomiastudio.it